Faculty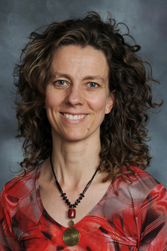 Ronette Gehring, BVSc, MMedVet (Pharm), MRCVS, DACVCP
Associate Professor, Clinical Pharmacology
E-mail: rgehring@vet.k-state.edu
Research
My research interest lies with computer-based modeling as a quantitative framework that integrates and explains pharmacokinetic and pharmacodynamic data based on current scientific understanding in veterinary and comparative pharmacology. The objective is to develop models as tools to identify and design safe and effective treatments for different disease conditions in a wide variety of animal species. Most recent projects have focused on optimizing antimicrobial dosage regimens for the treatment of bovine respiratory disease, designing effective dosage regimens of non-steroidal anti-inflammatory drugs for the control of pain in cattle, and predicting milk and tissue drug residue concentrations to determine withdrawal times needed to ensure that food of animal origin is safe for human consumption. I use many different modeling and simulation platforms in my work, including classical compartmental and non-compartmental analysis of pharmacokinetic data, non-linear mixed effects models to describe and account for sources of intra- and interindividual variability in responses to drug treatment, integrative analysis of pharmacokinetic and pharmacodynamic data, and physiologically-based pharmacokinetic models.
Service
I am the regional director (Mid-West) of the Food Animal Residue Avoidance Databank, a risk-management program that provides science-based advice to help mitigate unsafe chemical residues in products derived from food animals. I am also currently serving as the President of the American Academy of Veterinary Pharmacology and Therapeutics.
Teaching
I teach pharmacology to the 2nd and 3rd year veterinary students.
I also teach an online course in veterinary clinical pharmacokinetics for graduate students. This course is also available as continuing education for scientists in the veterinary pharmaceutical industry.
Degrees
University of Pretoria, South Africa 1996 BVSc
University of Pretoria, South Africa 2001 MMedVet (Pharm)
Board Certification
American College of Veterinary Clinical Pharmacology, 2006
Memberships and Affiliations
American Academy of Veterinary Pharmacology and Therapeutics (President)
American College of Veterinary Clinical Pharmacology
Animal Health Modeling and Simulation Society
American College of Clinical Pharmacology
Recent Publications
Carpenter AJ, Ylioja CM, Vargas CF, Mamedova LK, Mendonça LG, Coetzee JF, Hollis LC, Gehring R, Bradford BJ. Hot topic: Early postpartum treatment of commercial dairy cows with nonsteroidal antiinflammatory drugs increases whole-lactation milk yield.

J Dairy Sci

. 2015 Oct 28

[Epub ahead of print].





DeDonder KD, Apley MD, Li M,

Gehring R

, Harhay DM, Lubbers BV, White BJ, Capik SF, KuKanich B, Riviere JE, Tessman RK.

Pharmacokinetics and pharmacodynamics of gamithromycin in pulmonary epithelial lining fluid in naturally occurring bovine respiratory disease in multisource commingled feedlot cattle.

J Vet Pharmacol Ther

. 2015 Oct 6

[Epub ahead of print]

.



Huang L, Lin Z, Zhou X, Zhu M,

Gehring R, Riviere JE, Yuan Z. Estimation of residue depletion of cyadox and its marker residue in edible tissues of pigs using physiologically based pharmacokinetic modelling.

Food Addit Contam Part A Chem Anal Control Expo Risk Assess

.

2015 Dec,

Epub

2015 Nov 5

.



Stock ML, Millman ST, Barth LA, Van Engen NK, Hsu WH, Wang C,

Gehring R, Parsons RL, Coetzee JF. The effects of firocoxib on cautery disbudding pain and stress responses in preweaned dairy calves.

J Dairy Sci

. 2015 Sep, Epub 2015 Jul 2.



Smith DJ, Shelver WL, Baynes RE, Tell L,

Gehring R, Li M, Dutko T, Schroeder JW, Herges G, Riviere JE. Excretory, Secretory, and Tissue Residues after Label and Extra-label Administration of Flunixin Meglumine to Saline- or Lipopolysaccharide-Exposed Dairy Cows.

J Agric Food Chem

. 2015 May 20, Epub 2015 May 7.



Grosset C, Weber ES 3rd,

Gehring R, Sanchez-Migallon Guzman D, Campbell LA, Enz C, Groff JM, Tell LA. Evaluation of an extended-release formulation of ceftiofur crystalline-free acid in koi (Cyprinus carpio).

J Vet Pharmacol Ther

. 2015 Dec, Epub 2015 Apr 16.