Development and Gifts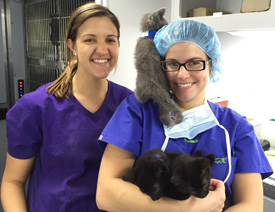 You can make a difference. Whether you're an animal-lover, an alumnus or a good friend to Kansas State University, your contributions helps the College of Veterinary Medicine and the Veterinary Health Center touch lives every day. We are dedicated to enhancing the health and well-being of animals and humans through excellence in education, research and professional practice. We are committed to serving the state, the nation and the world.
The College of Veterinary Medicine is one of the leaders in helping propel Kansas State University toward its vision 2025 of becoming one of the nation's Top 50 Public Research Universities. Our ability to continue research and education at the highest level can change millions of lives around the world. Contributions by caring people such as you create and enhance educational opportunities, support excellence in veterinary education, fund cutting-edge research, improve the quality of life for animals and human, and advance health issues that benefit us all. Please consider supporting your College of Veterinary Medicine with a gift that conveys your passions for animals and the people who care for them.
Learn about specific giving opportunities.
Learn about the special programs at the College of Veterinary Medicine that celebrate and honor the human-animal bond.
Planned gift supports professorship and scientific excellence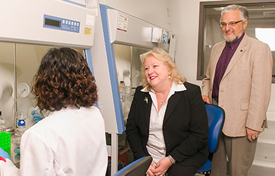 A visionary gift by the late Dr. Robert MacDonald helped Kansas State University hire its first-ever National Academies faculty member, Dr. Jim Riviere. Learn how this gift is helping transform both the College of Veterinary Medicine and Kansas State University as a leader in scientific innovation. Read the full story here, and learn more about how you can plan a gift to the college.
Thank you for considering a gift to the College of Veterinary Medicine. Contact one of our development professionals to get personal assistance:
Phone:
785-532-4378
E-mail:
debbiek@found.ksu.edu
Mailing Address: 1700 Denison Avenue, 103 Trotter Hall, Manhattan, KS 66506