14th Annual Samuel Kelsall III Memorial Hunt
October 6 & 7, 2016
Get ready for upland bird season with this exclusive opportunity to benefit College of Veterinary Medicine student scholarships and the Samuel Kelsall III Memorial Scholarship. Plans include a five-stand competition, country gourmet meals, a guided hunt and a chance to win a shotgun. Please see map and web site below.
Act fast — space is limited! To reserve your spot, please complete the online registration form below and return. You will receive a confirmation. Deadline to register is Sept. 22.
Please contact Charla Henry, events coordinator, at 785-532-7093 or e-mail charlah@found.ksu.edu if you have any questions.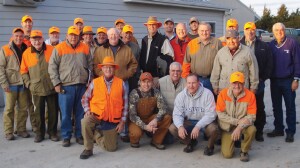 Cost per person is $725. This includes hunt fees that cover items listed in the box below. The remaining $230 is a tax-deductible contribution to support scholarships for students interested in food safety/inspection through the Dr. Samuel Kelsall, III Memorial Scholarship.
Schedule for Samuel Kelsall III Memorial Hunt (subject to change)
Thursday, October 6
2:30 p.m. Check in at ranch
3:30 p.m. Five-Stand Competition
6 p.m. Appetizers & Refreshments served fireside at the Ranch House
7 p.m. Country Gourmet Supper
8 p.m. Social time
Friday, October 7
7:30 a.m. Breakfast
8:15 a.m. Morning hunt
10 a.m. Refreshment Break: Beverages & Homemade Coffee Cake
12 p.m. Hot Lunch served back at the Ranch House (with Ranch's right-from-the-oven Cinnamon Rolls)
1:30 p.m. Afternoon hunt
3:15 p.m. Refreshment Break: Beverages & Freshly Baked Cookies
4:30 p.m. Afternoon hunt concludes
5 p.m. Pick up your game at the Ranch Office, Check Out, Departure
Registration fee includes:
Round of clays (on-site five stand)
Excellent on-site accommodations - two guests per room with private or semi-private bathrooms
Country gourmet meals - breakfast, lunch & dinner
Complimentary appetizers and drinks before dinner
Professional guides with dogs
Your game processed and packaged
Ringneck Ranch logo cap and insulated cooler
Refreshments
Field transportation via four-wheel-drive crew-cab hunt trucks
K-State Football Following the Hunt
Saturday, October 8, K-State vs. Texas Tech, Kick-off will be announced one week prior to the game.
We welcome you to join us at Cat Town two hours prior to kickoff – food and beverages will be served.
If you wish to order tickets, call the K-State ticket office at 1-800-221-CATS or go online at www.kstatesports.com.
For additional lodge information and driving directions, visit: www.RingneckRanch.net