CaTS Quick Answers
Hey CaTS, how do I ...
request a CVM network account?
To request a CVM network account, be sure you have a K-State eID, then fill out the information on THIS FORM and submit. If you have any questions, please contact:
DeAnna Jacklovich:djacklov@vet.k-state.edu - 785-313-0235
connect to the CVM wireless network?
Kansas State University provides wireless data network services for K-State students, faculty, staff, and guests. Read the Wireless Local Area Network Policy governing wireless computing at K-State.
KSU Wireless - For all K-Staters. Students and employees. Sign in (with eID/password) to access protected campus resources, including the KSIS student information system, HRIS, K-State Online, webmail, etc.
KSU Guest (For visitor use only) - Campus visitors get basic Internet and Web access. This network does not allow access to K-State enterprise systems such as KSIS, webmail, etc.
set up my smartphone or tablet for CVM email?
CVM Office 365 email accounts are accessible from most modern mobile devices including iPhones, iPads and smartphones with Windows Mobile, Android or webOS operating systems. Most devices can access email, calendar and contacts. Some devices may also access notes and tasks.
Remember to change passwords on all your mobile devices configured for email (phones, tablets, PDAs) whenever you change your CVM password. Failure to do so may result in your CVM account being locked due to multiple invalid login attempts.
iOS Devices - iPhones, iPads
Delete old CVM account:
Any previous CVM account should be deleted. With the device disconnected from the computer, touch the "Settings" icon on your device to set up EMail. Under "Mail, Contacts, Calendars" select "Exchange" and select "Delete Account".


Add New account:
With the device disconnected from the computer, touch the "Settings" icon on your device to set up EMail. Under "Mail, Contacts, Calendars" choose Add Account, select Exchange, and enter the following information:

Email: YourCVMUsername@vet.k-state.edu
Password: Your CVM password


Select

"Next"

, wait for account to verify, select

"Save".
Be sure the switches are ON for the services you want to sync (Mail, Contacts, Calendars)
Android Devices
Delete Current Account


Add New Account

Press the Menu button
Press the Accounts button
Press the Menu button again, then select Add Account
Select Exchange ActiveSync


Please use the following settings:
Email AccountName: username@vet.k-state.edu
Password: CVM password
NEXT
Account Type: Microsoft Exchange ActiveSync

You will receive an error ( because of the server name), select OK and ADD
You will see either Domain/Username or Username - enter: username@vet.k-state.edu
ExchangeServer:outlook.office365.com
NEXT
Accept the activation notice
Remote Security administration select OK
Set email preferences
NEXT
Name the account
Select Done.
Blackberry
BlackBerry devices cannot connect to the CVM Exchange system via ActivSync and will need to be set up using POP or IMAP. Call the CaTS hotline (785-532-4725) for configuration information.
Windows Mobile Devices
On Start, swipe left to the App list, select Settings, and then select email + accounts.
Select add an account and then select Outlook.
In the E-mail address box, type your CVM e-email address.
In the Password box, type your password.
Select Sign in.
change or reset my CVM password?
For instructions on accessing and using the CVM password management web interface, click
HERE
(pdf).
email large files?
KSUCVM employs a special file transfer module on it's FTP server that allows authorized users to easily and securely send files to any email address in the world using either a Web browser or Microsoft Outlook. Users can send a package of files* along with an optional delivery note to multiple recipients.
This method of file transfer is a better option than simple email attachment, since it is more secure and allows for transfer of files up to 2GB in total size. It is also more user-friendly than traditional FTP file transfer. Using the file transfer module, recipients are sent an email notification that includes an embedded link to securely download the file or files, an optional note from the sender, and any password requirements.
Web-based interface
To use the web-based interface, follow this link: https://ftp.vet.k-state.edu/aht/. Be sure to contact the CaTS Hotline at 2-4725 (or cats@vet.k-state.edu) for login information.
Microsoft Outlook Plugin
If you find yourself regularly sending a number of large files, you may prefer to use the WS_FTP Plugin for Outlook. This plugin adds a "WS_FTP Attach File" option to the Outlook New Mail window, and uses the WS_FTP transfer module for file storage and retrieval. Please contact the CaTS Hotline at 2-4725 (or at cats@vet.k-state.edu) to get the WS_FTP Outlook Plugin.
*we recommend that files be compressed (zipped) before sending to minimize file size.
use the CVM FTP server?
Before choosing to send a large file(s) via standard FTP, consider our more user-friendly web-based transfer module. Read instructions here.
If you are new to the concept of using FTP to transfer files, the information below may be of some help.
What Is FTP?
FTP (File Transfer Protocol) is a method of sending and retrieving files to and from other computers on the Internet. FTP is fairly fast and reliable, and in most cases, you are able to resume a transfer that has been interrupted due to loss of connection or other problems rather than starting over from the beginning. FTP is most commonly used for large files that can not and should not be sent as email attachments due to their size.
All you need in order to transfer files via FTP is the use of a computer which has a connection to the Internet, an FTP client (software designed specifically for FTP file transfer), and the name (or numeric address) of the site you want to download from or send a file to (the exact directory name and filename is also useful, but often not essential, as you can normally browse through what is available). Depending on the site, you may also need a User ID and Password for access.
The names of machines are usually in the format machine.site.network, for example ftp.microsoft.com but you can also use the numeric (IP) address if you know it.
How do I use FTP?
When FTP was first developed, you connected to other sites using a command-line interface like DOS, Unix, or VMS. Although you can still use a command-line interface to connect, today it is much easier to use a graphical interface, commonly called an FTP client, in order to connect to an FTP site.
Most people prefer to use an FTP Client because it is more reliable and has the ability in most cases to resume broken transfers. There are several FTP clients available for your use. Most Mac users have an FTP client called Fetch. A free Windows FTP client is called FileZilla (from the makers of the Mozilla web browser), and can be downloaded here. Since most FTP clients work the same, an understanding of one client will lead to the understanding of others.
Connecting Using an FTP Client:
Once FileZilla is installed and opened, you can enter the name of the machine you wish to connect to in the "Address" box. Enter a username and password if needed (leave blank for anonymous connections). Port 21 is the default port for un-encrypted FTP connections, but the encrypted port 22 is required in order to connect to servers on the K-State campus. Pressing the "ENTER" key or clicking on the "Quickconnect" button will connect you to the FTP site listed in the "Address" box.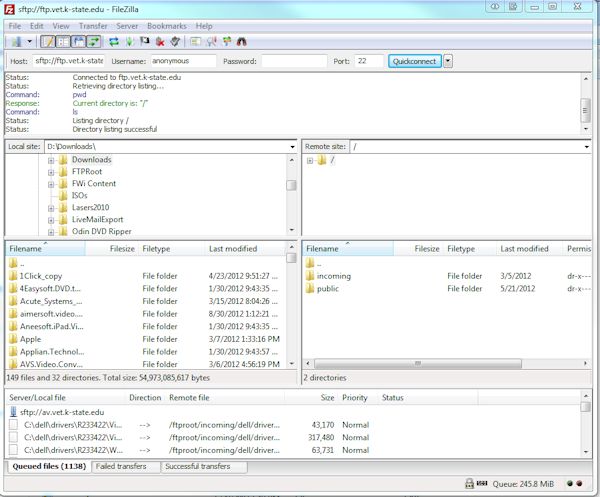 The upper FileZilla window will display the commands to and responses from the FTP server. The left-side window that displays your local drive/directory structure, and once connected, the right-side window will display a directory listing of the remote host. You can easily download files to any local directory by right-clicking on a remote file and selecting it's local destination. The box at the bottom of the window monitors all transfer progress.
Remember that depending on what User ID and Password you used to connect, you may or may not have sufficient rights to upload files and create and/or delete files and folders on the remote site. When you download files from a remote site to your local machine, you should also be sure that you remember the name of the file and the directory that you downloaded it to so that you can find it later. It is a common practice to create a "Downloads" directory on your local machine that you use for all files you retrieve from remote sites.
Accessing the KSUCVM FTP Site
The Host Name for the KSUCVM FTP site is: ftp.vet.k-state.edu. You MUST use port 22 (sftp) to connect.

Anonymous connections are allowed, and browsing and downloading are authorized from within the Public directory. Uploading is NOT allowed from an anonymous connection.

If uploading is required, please contact cats@vet.k-state.edu to obtain the necessary User ID and Password. You will be given a User ID and Password that will allow file uploading AND directory creation within the Public directory. However, for security purposes file and directory deletion are NOT allowed with this User ID. Files within the Public directory are purged once they are over 60 days old. If you need files or directories deleted before the 60 day period, or require that they remain available for a longer period of time, please contactcats@vet.k-state.edu.

It is possible for us to create a secure location on our FTP site if you want the files you transfer to be invisible to other users. If a secure file transfer location is necessary, please contact cats@vet.k-state.edu and we'll create a secure location along with a special User ID and Password for you to use.


You might also consider using our Ad-Hoc Transfer Module to send files to users who may not be familiar with FTP. It uses a web interface to upload files, and sends email links to download files from our FTP server.


If you have any questions, please feel free to contact: cats@vet.k-state.edu (who else?).
choose a strong password?
https://howsecureismypassword.net/
get a copy of the approved anti-virus software?
Trend Micro OfficeScan client is required for all computers that routinely connect to any K-State network. The software is provided to K-Staters free of charge.
Instructions for home computers:
If you're looking for antivirus software for your home computer we recommend using the campus version of Trend, particularly if you regularly remote in to campus resources. Installation instructions for the campus version of Trend can be found here: http://www.k-state.edu/its/antivirus/.
Instructions for CVM users installing Trend Micro OfficeScan:
Find the scenario that best describes your computer's current configuration and proceed.
1. If the Trend Micro antivirus icon appears on your Windows computer's taskbar like this:

you already have the new software installed. There is nothing left to do.

2. If the computer or laptop you own that connects to our network/Internet currently uses an antivirus program other than Trend Micro OfficeScan, please follow the directions for uninstalling your current antivirus program and installing the Trend Micro OfficeScan client.

3. If the computer or laptop you own that connects to our network/Internet currently has NO antivirus software installed, please follow the directions for installing the Trend Micro OfficeScan client.
Instructions for users leaving K-State on removing the Trend Micro OfficeScan client:
A password is required in order to remove the Trend Micro OfficeScan client. Call the CaTS Hotline at 785-532-4725 to get the uninstall password.
1. Once you have the uninstall password, begin the process by using add/remove programs in the Control Panel...

2. Click Start and then click Control Panel (you may have to point to Settings before clicking Control Panel).

3. Double-click Add or Remove Programs.

4. Scroll down to the entry for Trend Microantivirus program installed on your computer and then click it to highlight it.


5. Click the Change button. The Trend Micro OfficeScan Client InstallShield Wizard will appear.


6. Click Next.


7. Select the Remove button and click Next.


8. Click on Remove.


9. Type in the password you recieved from CaTS and click on Next.


10. The uninstall process may take several minutes.

11. When complete, click on Finish. Restart your computer after the antivirus program has been removed.

12. It is HIGHLY recommended that you install another antivirus program as soon as possible. We recommend Microsoft Security Essential/Windows Defender.
If you have any problems or questions, please contact the CaTS hotline at 532-4725.
get software for use at home?
Our Microsoft Enrollment for Education Solutions License (EES) allows us to offer limited Work-at-Home (WAH) rights to eligible* faculty and staff, and to our veterinary students. These limited rights permit the use of select Microsoft applications and systems on a personally-owned computer for work/school-related purposes.
Electronic software distribution services are offered by Microsoft's authorized Digital Distribution Service Provider (Kivuto Solutions), who have set up an on-line web store to facilitate the distribution of WAH software and any keys necessary for activating individual products. Besides licensed Microsoft products, the web store also offers many other software titles at significant discounts to eligible* users. All software on the KSUCVM WAH web store is meant for work/school-related use on personally-owned devices only. By downloading and using software from the KSUCVM web store, you are agreeing to the terms outlined in the WAH License Agreement (PDF).
To access the web store, simply click on the link below. You may wish to bookmark the link for future reference. Before purchasing, you will need to sign-in to the site using your CVM username and password for authentication and verification of eligibility.
https://vet-k-state.onthehub.com/
*Employees who do not use college-owned computers in their normal work activities, or who are employed on a less than 4-tenths basis are not included in the FTE count for licensing purposes and are ineligible for work-at-home rights. If you have questions concerning your eligibility, please see the Dean's Business Office.